We serve each resident based on his or her unique needs and desires – a distinction that sets Stonebridge at Woodbury apart from other senior living communities. Our personalized approach to meet each resident's needs and preferences is achieved with our graduated levels of care and a dedicated group of people, available 24 hours to serve.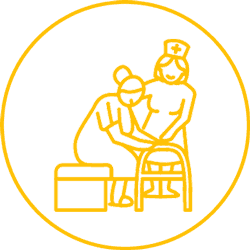 Stonebridge at Woodbury offers residents an independent and active lifestyle, with the security of a helping hand. Assisted living offers 24-hour supervision for those who may need assistance with things such as bathing, dressing or medication management. Many residents are independent but have peace of mind knowing that assistance is there if needed.
Woodbury provides inpatient services for those who are sick or suffering from a long-term disability or injury. Our staff of licensed medical professionals make sure that your loved one is getting the best care for his/her condition, with around-the-clock care and assistance.
We provide services for the rehabilitation of your loved one's injury, disability, or sickness and assist them with recovery until they are well enough to return to an independent lifestyle. Just like our short-term rehabilitation services, Woodbury Wellness Center is proud to partner with Genesis Rehab Services to deliver the highest quality rehabilitation services to our clients and residents.
At Woodbury, we have a licensed on-site physician that is on call 24/7 should any patient needs arise. You'll feel safe and secure knowing that a medical professional is just a phone call away for your loved one and the staff to depend on whether it's a simple cold or a medical emergency.